2010-2021
Retired February, 2021
Certified in Trailing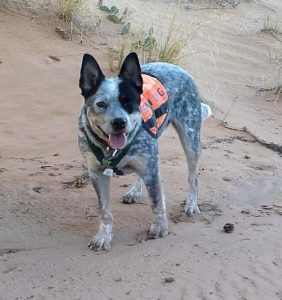 Quest was a blue Australian Cattle Dog.  She was typical of her breed in that she was very smart, willing and quick to learn (both good things and bad), very active, ferocious in her devotion to duty and extremely devoted to me.  We started her training as a search dog when she was 9-weeks-old, and, although her training had a lot of interruptions, we became certified in trailing in May of 2014.  Quest was extremely playful and active (some people say she was wild and crazy), but she was also a sweetheart who loved to cuddle.
"Though Quest had a short career, only about 6 years long career in SAR, she did enough to make a difference.  I'm sure that the assistance I had from SARDOC members helped to make it possible".
Her record –
*2 water assists in the Colorado River
*1 water find in the Colorado River
*1 urban trailing find
*1 wilderness trailing find
*Gave us several DOTs that resulted in finding a subject.  One was an elderly man that everybody "knew" had gone in the opposite direction than what Quest said.  Due to her we were able to determine where he had actually gone and we found him.  He would not have survived much longer if we hadn't found him when we did.
*1 airscent "find"/strong assist.  This one was fun.  I had an injured ankle, could not walk far, started out to clear the mouths of two canyons to find if the subject had left the area.  Quest gave me enough info that I told the Heli pilot that the subject was between .5 and 1 mile. but probably around .75 mile up one of the canyons, on the west side, on the 2nd layer/bench.  Heli was supposed to be headed elsewhere but the pilot (with MANY years of experience piloting helis on searches) had enough faith in search dogs to check where I told him to fly first.  Flew right to the subject .68 miles up the canyon, on the west side, on the second layer.  The pilot came back totally excited about it and whenever anybody said something like "you found the subject", he would strongly say, "NO, Nancy and her dog found him, I just picked him up."  Sure made me happy.  And the subject would not have made it much longer due to heat/dehydration.
Nancy May, Handler
Grand County Search and Rescue, Moab, UT