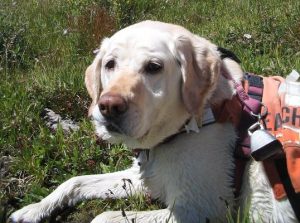 Labrador Retriever
November 4, 1996 – April 20, 2009
Certified in Air Scent and Avalanche
On April 20, 2009, Rosie departed this world for her final mission. Her mission was simple. To find that place where a search dog has unlimited squirrels to chase, lakes to swim in, rocks to climb on, snow to roll in, and meadows where she can play as much as she wants, work as much as she wants, and nap as often as she wants. And at the end of the day, there is always a little boy to find, who will play with her to both of their hearts content.
Rosie served as a certified search dog for almost 10 years.
Hug and love those that are dear to you, whether they are two-legged or four-legged. And do not take your time together for granted.
As for her final mission: "Rosie! Go find!"
Allen Weaver, Handler
Larimer County Search and Rescue